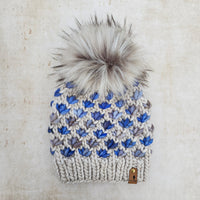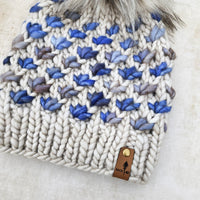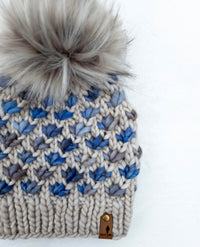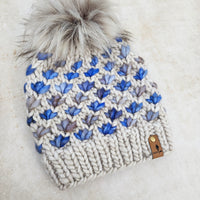 Luxe Line Lotus Flower Beanie (Mercurio) | Adult RTS
This item is ready to ship or pick up locally in the Comox Valley in 1-3 business days.
LUXE LINE
Lotus Flower Beanie in Fog and Mercurio with removable Latte faux fur pom pom.   Want a different pom on this toque?  Leave a note at checkout.
Hand-knit with luxurious, ethically-sourced, 100% fine Merino Wool.  This top of-the-line wool is hand dyed in small batches, making each finished piece one of a kind.  Why Merino? This luxury fibre is lightweight and finer than regular wool, making it extremely soft and not itchy like some coarser wools.  Merino is also breathable, temperature regulating and moisture-wicking, meaning it will keep you warm and dry without overheating you.  Properly cared for, this is a piece you will enjoy for many years.  
Fit: Fitted style. Teen/Adult size (approximately 19-23").  
Toque Care:  Spot clean or gently hand wash your knitted item in cool or lukewarm water; gently squeeze out excess water, shape and lay flat to dry. Remove faux fur pom pom before washing (do not wash pom; spot wash if required).  Refresh poms with a comb or hair dryer on cool setting.  Do not use high heat or put your poms in the dryer!

Sizing: Our sizing is based on average head circumference measurements.  We advise you to measure head circumference using a soft measuring tape and choose your size based on those measurements rather than relying on the age ranges listed.  Keep in mind our toques are very stretchy.  Babies and kids heads (and adults too!) come in all shapes and sizes.  When in doubt, order a size up.  If you have any concerns or questions about sizing please feel free to send us an email.
Our sizes are as follows:
0-3 months - fits approximately 12-13.5"
3-6 months - fits approximately 14-15"
6-12 months - fits approximately 15-16.5" 
1-3 years (Toddler) - fits approximately 16.5-18.5" 
3-9 years (Child) - fits approximately 18.5-21" 
Adult - fits approximately 21-23"