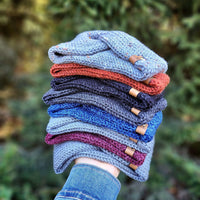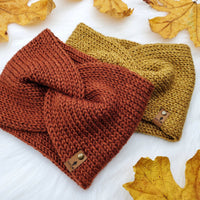 The Twist Headband - Custom Order
The Twist Headband
This handmade, seamless head wrap is the perfect transitional piece, and guaranteed to keep you cozy and warm on chilly days. 
Twist Headbands are available in our Classic Line of acrylic and acrylic blend yarns, as well as in our Luxe Line in 100% Merino wool.  Click here to view available ready-to-ship Twist Headbands.
CARE:  Spot clean or gently hand wash your knitted item in cool or lukewarm water; gently squeeze out excess water, shape and lay flat to dry.
Regular fit measures approximately 5.5" tall; Skinny fit measures approximately 2.75" tall (unstretched).
SIZING:
Toddler size (1-2.5 years): Fits approximately 16-18" 
Child size (3-9 years): Fits approximately 18.5-20" 
Adult size: Fits approximate 20.5-23"